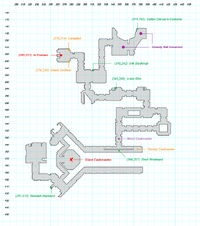 The entrance to this dungeon is located at (X:174 Y:261) within the Eversun Inn in Eversun City. You must complete the Abandoned Mortuary quest series given by the Mysterious Elder at (X:190 Y:283) outside the inn. If the leader of your team has completed the mission already, you will be able to follow this person in but will not be able to enter on your own.
Recipe Pots
Edit
Ad blocker interference detected!
Wikia is a free-to-use site that makes money from advertising. We have a modified experience for viewers using ad blockers

Wikia is not accessible if you've made further modifications. Remove the custom ad blocker rule(s) and the page will load as expected.