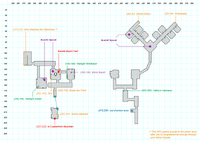 The entrance to this dungeon is located at X:720 Y:247 in Copperhorn Mountain. To gain access to Grizzly Garrison you need to have progressed far enough through your mirror quests (Mission 2 step 4 of Force of Infinite Knowledge).
To gain access to the second floor or basement you need to complete all of Bucky the Thief's quests.
Connecting Areas
Edit
Recipe Pots
Edit
Ad blocker interference detected!
Wikia is a free-to-use site that makes money from advertising. We have a modified experience for viewers using ad blockers

Wikia is not accessible if you've made further modifications. Remove the custom ad blocker rule(s) and the page will load as expected.