Darkdale Destroyer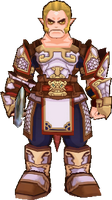 Information
Race: Shura
Gender: Male

Locations
Quests
Loopy Lizards Mission
Maiming Moths Mission
Beat the Bandits Mission
Monster Extermination Mission
Darkdale Destroyer is a Quest NPC. He is located at X:299 Y:245 in Darkdale and gives the following quests:
Loopy Lizards Mission
Edit
Kill 10 Big-Lidded Lizards, 10 Lil'-Lidded Lizards and 10 Lizard Leaders.
Rewards:
Maiming Moths Mission
Edit
Collect 20 Paralyzing Powders

from Toxic Tiger Moths
Rewards:
Beat the Bandits Mission
Edit
Collect 20 Straw Ropes
from Purple Whipping Grasses and 20 Spiky Shells

from Giant Hedgehogs.
Rewards:
Monster Extermination Mission
Edit
Kill 1 Sandstone Ladybug and 1 Giant Butterfly.
Rewards:
Ad blocker interference detected!
Wikia is a free-to-use site that makes money from advertising. We have a modified experience for viewers using ad blockers

Wikia is not accessible if you've made further modifications. Remove the custom ad blocker rule(s) and the page will load as expected.